Foil-Packed Potatoes Made On The Grill
These grilled potatoes cooked in a foil packet are the tastiest potatoes you will ever make!  Plus, they are super easy. 
Foil Pack Potatoes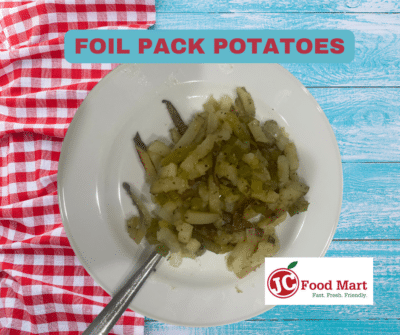 1 Russett potato, diced
1/2 onion, diced
1 bell pepper, diced
1 tablespoon of olive oil, or oil of your choice
1 to 2 tablespoons of seasonings of your choice (we used garlic herb)
2 sheets of foil
Combine everything on one sheet of foil and top with a second sheet of foil crimp edges so the ingredients do not fall out. Put the grill on medium to medium high for 20 minutes. Flip packet about halfway through. You can cook longer for crunchier potatoes. 
Looking for easy WIC-inspired recipes for your kitchen? Check out our blog at jcfoodmart.com/blog. Get all your WIC foods at JC Food Mart. Bilingual clerks help you shop for all your foods so you are in-and-out fast with everything you need.