Potato Soup, 3 Bean Chili Recipes To Comfort Your Family This Winter
This winter, soups are the perfect way to cozy up. We have two amazing recipes using WIC foods that will help warm your whole family on the coldest of days. These two recipes use popular WIC foods such as beans, vegetables and cheese to help make a filling family meal that you can enjoy for days to come.

BAKED POTATO SOUP
5 large russet potatoes, diced
1 teaspoon salt
5 slices thick cut bacon
1 large onion, finely diced
3 cloves garlic, minced
2 Tablespoon butter
¼ cup flour
3 cups Chicken broth
2 cups milk
1 cup sour cream
½ teaspoon pepper
2 cups shredded cheese – Colby jack, cheddar, or mozzarella work best
1/8 cup green onion chives, finely diced
Helpful Tips: 
Avoid using bagged shredded cheese, as it contains cellulose which prevents the cheese from melting smoothly.
Plain Greek Yogurt can be used instead of sour cream.
Instructions:
Submerge diced potatoes in a pot of water. Add salt and boil for about 20 minutes or until fork tender. Drain the potatoes and set aside.
Cut the bacon into squares and cook low and slow until crisp.
Add the onions and cook over medium heat for 5 minutes. Add the garlic and butter and cook for 2 more minutes. 
Slowly stir in flour while mixing and cook for 1 – 2 minutes.
Add the chicken broth, then the milk. Bring to a boil while stirring often, then reduce to a simmer. Mash the potatoes then add them to the pot. Mix in the sour cream, salt and pepper.
Remove from heat.
Gradually sprinkle in the shredded cheese. Stir until combined. Add the green onion chives and any extra cheese or sour cream you want. The soup will continue to thicken as it stands. 
Serve & enjoy!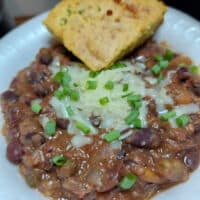 The temperatures are dropping. What's more comforting than a nice warm soup or chili? Gather up WIC-approved beans and other WIC ingredients for this hearty and healthy recipe. It's the perfect time to cozy up to a bowl of this 3 Bean Chili.
3 BEAN CHILI
1 onion, diced
1 tablespoon of minced garlic
3 celery stalks, diced
1 large carrot, diced
1 bell pepper, diced
1 jalapeno, diced
1 can of diced tomatoes with chilies
1 can of kidney beans, drained
1 can of black beans
2 cans of pinto beans, drained
1 tablespoon of butter or oil
Optional for topping:
Green onions
Cheese and/or sour cream
Turn the slow cooker on high heat. Finely dice about 2 cloves of garlic, 1 onion, 3 celery stalks, 1 large carrot, and 2 jalapenos then add to the slow cooker. Add 1 tablespoon of butter or oil & stir. Drain the liquid out of 1 can of kidney beans and 2 cans of pinto beans, then add to the slow cooker. Then add 1 can of black beans (don't drain the liquid out of this one).
Stir & cover. Cook for 4 hours, stirring occasionally. Serve with shredded cheese & green onion on top, and this pairs great with cornbread too! Enjoy!
Pick up all your WIC-approved beans and other WIC foods in one easy stop at any JC Food Mart store. There are 10 locations in San Antonio.
Check out our blog for more recipes using WIC-approved beans and other WIC foods.