Make Ahead Recipes Perfect For Enjoying Time With Your Family
All moms need a break. 
Labor Day is the perfect time to take a break from all the extra things you normally do – like extra cooking – and enjoy a special moment with your family. 
Feeding your family can sometimes seem like an all-day event. Mom's know that kids always seem hungry, and if you aren't making  breakfast, it's a snack (or two) and then dinner. Mom's also need a break. That's why we have come up with a super easy holiday weekend menu that lets moms take a break and enjoy the holiday.
Pick a few of these recipes below to make ahead of time, giving you extra time to spend with your family. They are super easy recipes the entire family will enjoy.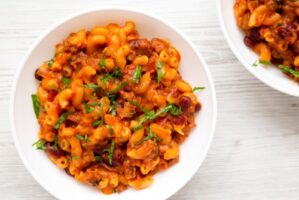 ONE PAN CHILI MAC
2 tbsp. olive oil
1 tbsp. paprika
1 tbsp. cumin 
2 tsp. onion powder
2 tsp. garlic powder
Salt to taste
2 cups water
1 8 oz. can of  tomato sauce
8 oz. whole wheat elbow macaroni
8 oz. shredded cheddar cheese or other cheese of your choice
Heat oil in a pan. Add water, tomato sauce, pasta and seasonings, cook on medium-high to bring to a boil. Reduce heat, cover, and simmer for about 10  minutes, stirring until pasta is tender. Sprinkle cheese on top and put the lid on the pan until the cheese is melted. 
CEREAL BAR SNACK
4 cups of WIC-approved cereal of your choice
¾ cup peanut butter
½ cup honey
2 tablespoons butter
Line a square pan with foil or parchment paper. Spray foil with cooking spray. In a large saucepan, heat peanut butter, honey and butter until mixture is boiling and slightly thickened. Place cereal in a bowl. Stir heated peanut butter sauce over cereal. stir until evenly coated. Using the buttered back of the spoon, press the mixture very firmly in a square pan. Refrigerate about 1 hour or until firm enough to cut. Make and place in the refrigerator for up to a week. 
This recipe makes 4 snack boxes you can store in the refrigerator for up to a week. They are great for snacks or lunch.
SNACK IN A BOX
Boil 4 eggs
Cheese slices
1 peanut butter sandwich on wheat bread
Cut fruit
Boil four eggs in hot water for about 7 minutes. Drain and rinse in cold water. Peel eggs and slice in half. Slice cheese into bite sized pieces. Make a peanut butter sandwich on wheat bread and cut into 4 pieces. Sliced fruit. Assemble snack boxes and put in the refrigerator for up to one week. Enjoy!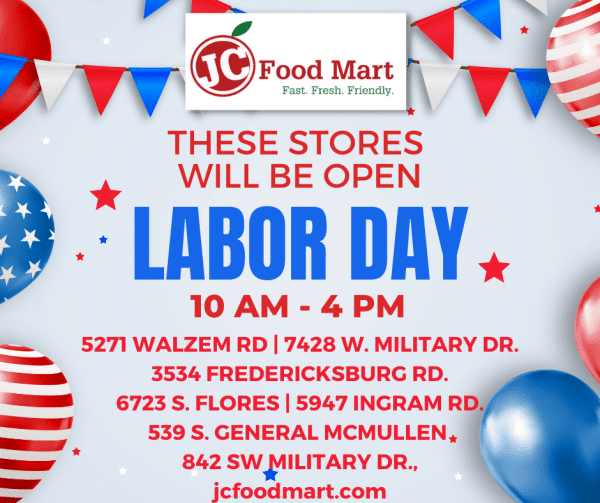 JC Food Mart will open certain locations for Labor Day. 
The following stores will be open from 10 AM to 4 PM on September 5th. 
JC Food Mart at 5271 Walzem Rd., San Antonio, TX 78218
JC Food Mart at 5947 Ingram Rd., Ste 101, San Antonio, TX 78228
JC Food Mart at 6723 S. Flores,San Antonio, TX 78221
JC Food Mart at 3534 Fredericksburg Rd., Ste 21, San Antonio, TX 78201
JC Food Mart at 539 S. General McMullen, San Antonio, TX 78231
JC Food Mart at 842 SW Military Dr.,San Antonio, TX 78221
JC Food Mart at 7428 W. Military Dr., Ste J, San Antonio, TX 78227
"We know how important it is to WIC clients, our customers, to be open at the beginning of the month," said Mando, store manager. "We love our customers and want to make WIC shopping as easy and convenient as possible."
JC Food Mart makes it easy for WIC clients to get all their WIC groceries in one easy stop. Our stores and staff cater to WIC clients. Walk in to get everything you need today. 
Everyone at JC Food Mart wishes your family a happy and safe Labor Day.