Easter weekend is a fun time to enjoy healthy WIC foods and get outdoors with the kids. We have rounded up some great activities and fun recipes featuring the season's best food: eggs.
Whether you are coloring, hunting or eating them, there are so many fun ways to enjoy these nutritious little nuggets.
COLORING EGGS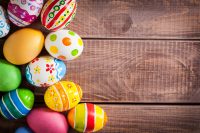 Pick up a dozen eggs for your kiddos to color this Easter. We have made a step-by-step guide for coloring eggs in this blog post. This is a great activity for kids of all ages. Plus, they will love eating the results of their creative activity.
HUNTING EGGS
There is no better way to welcome spring than to enjoy some outside time with the kids in the fresh spring air. Hunting for eggs is such a fun outdoor activity for kids and adults alike. If you aren't up for hiding colored eggs where you live, search social media for fun neighborhood egg hunts close to where you live. Another way to find a nearby egg hunt is to search on Google. Here is a search for you to see San Antonio area egg hunts.
EATING EGGS
Eggs are so delicious and nutritious. It's why they are a favorite WIC food. Here are a few great recipes to enjoy for Easter:
MICROWAVE EGG, CHEESE & PEPPER COFFEE MUG SCRAMBLE
2 large eggs
2 tablespoons milk
2 tablespoons cheddar cheese
1 tablespoon chopped tomato
1 teaspoon minced pickled jalapeño pepper, optional
Pinch each salt and pepper
Whisk together eggs, milk, cheese, tomato, jalapeño, salt, and pepper. Pour into well-greased 12-oz microwave-safe mug or mason jar. Microwave on High for 30 seconds; Stir. Microwave for 70 to 80 seconds or until eggs are puffed and set. Substitute prepared salsa for the chopped tomato and jalapeño if desired.


Make this recipe from the American Egg Board ahead of time for an amazing Easter breakfast:
Simple Breakfast Strata
4 Slices whole grain bread
4 Eggs
½ cup milk
½ teaspoon dried thyme or oregano leaves
6 slices Canadian-style bacon, chopped
½ cup shredded Cheddar cheese (2 oz.)
Place bread in a single layer in greased 8-inch square baking dish. Beat eggs, milk, and thyme in a medium bowl until blended; pour over bread. Sprinkle with bacon. Refrigerate, covered, at least 30 minutes or as long as overnight. Heat oven to 350°F. Remove strata from refrigerator; uncover and let stand while oven heats. Bake, uncovered, in the center of 350°F oven for 30 minutes. Sprinkle with cheese. Bake until cheese is melted and strata is puffed, golden and firm in the center, about 5 minutes longer.